link copied to clipboard
saving changes, please wait..
page successfully updated
error saving changes
file size exceeds 512kb.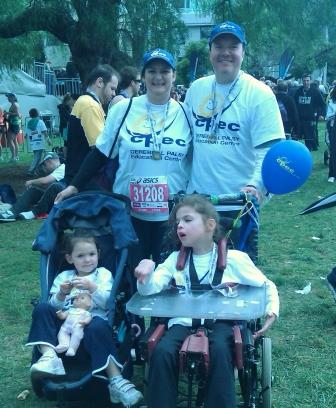 $11,905

of

$10,000

team's target.
Raised by 0 people in days for CPEC (Cerebral Palsy Education Centre)
Story
Well the ride is now over... the riders and support crew are all back with their families. The riders will be sore, but hopefully not too sorry and the drivers and Hamilton camp team will be tired too. For a group of strangers to come together for 3 days and then travel 520 hard yakka kilometers is truly awe-inspiring.
You all say that it is nothing to do what you have done. Please be rest assured, you have made a huge difference in a little girls life, and our family is forever indebted to you xxxx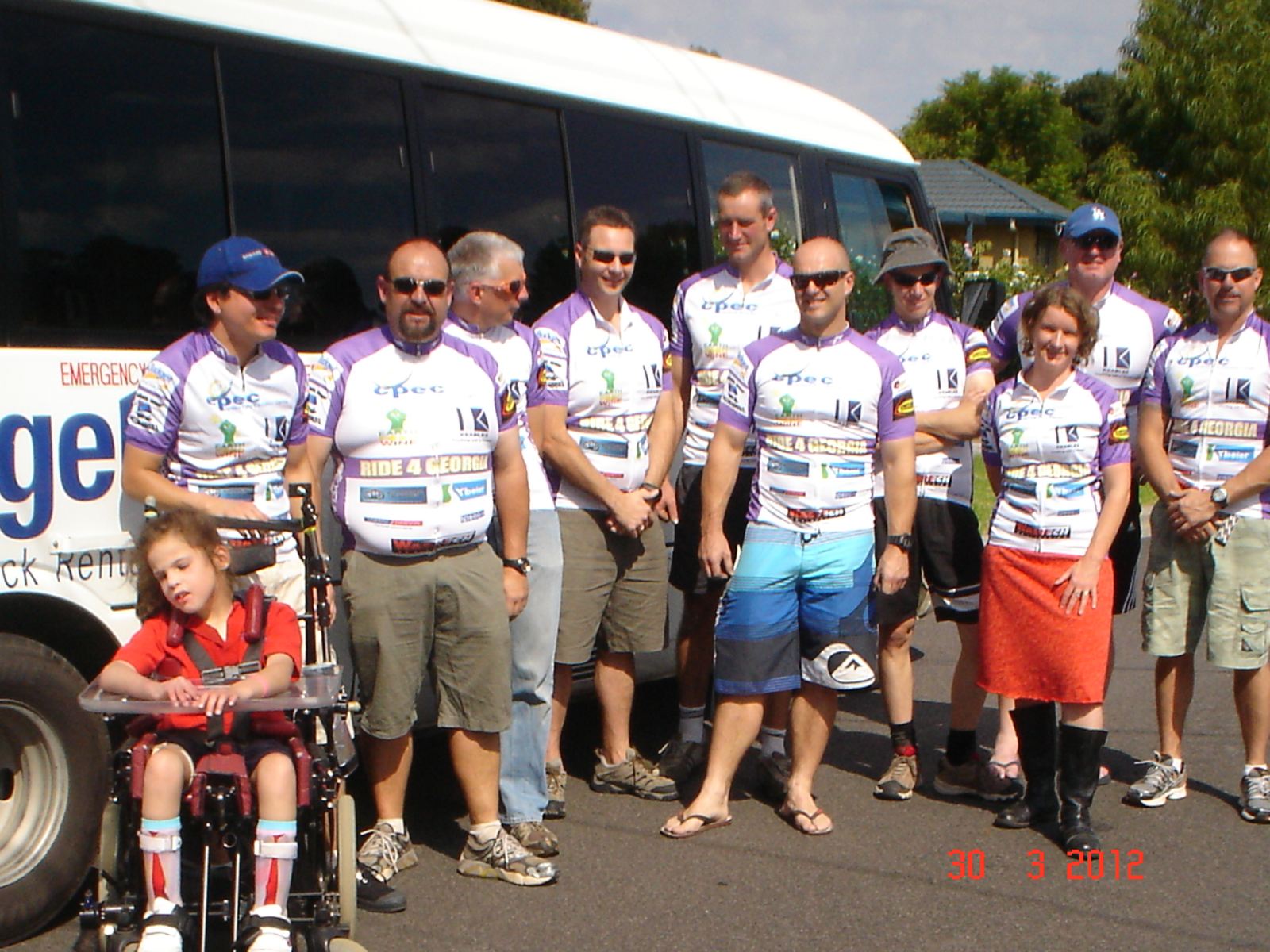 Our humble thanks to the Ride 4 Georgia team:
Sandro Ammann - Rider
Anthony Arthur - Support Crew (Hamilton)
Cameron Brown - Rider
Andrew Buckley - Support Crew (Driver)
Renate Crow - Rider
Simon Diner - Rider
Adam Gatherum - Rider
Nick Guerrine - Rider
Marcus Kunath - Rider
James Mackie - Support Crew (Driver)
Anthony McCormack - Rider
Chris Thornton - Rider
Craig Robinson - Rider
Jason Simmons - Rider
Chris Waixel - Rider & Organiser
Karen Waixel - Support Crew (Hamilton)
Wayne Waixel - Support Crew (Hamilton)
Matt Young - Support Crew (Hamilton)
--------------------------------------------------------------------------------------------------------------------------------------
Our daughter Georgia was born in December 2004. She was born with part of her brain undeveloped, which resulted in severe sensory integration dysfunction and Cerebral Palsy. She is unable to walk or speak and has great difficulty with sensory feeling in her body. It means that any daily function or movement is compromised and extremely difficult. We, as parents can help her with specialised equipment and therapy to complete some day to day activities, but in reality, she will need full-time care for the rest of her life.
Some of the equipment and therapy that we require to help Georgia is extremely expensive, and the government assistance we currently receive is not nearly adequate to cover all of her needs. Specialised positioning equipment is needed to ensure that Georgia's spine and hips grow correctly to avoid surgical intervention as she ages. This positioning and seating equipment also helps her to learn at school as she does not have to concentrate on controlling her body.
For the second year, we are, with the help of a family friend Chris Waixel entering a team of riders in the 2012 Murray-to-Moyne Cycle Relay. The team of riders will travel from Echuca to Port Fairy over two days in an attempt to raise money for Georgia's therapy and equipment costs. Georgia currently is in Grade 1 in our local primary school and attends the Cerebral Palsy Education Centre's extended care program for school aged children. With the ongoing assistance of the wonderful therapists and staff at CPEC, we can continue to give Georgia a better quality of life. But we need help.
We are looking for sponsorship of the Ride4Georgia team, and also individual donations. If you can help in any way, please click on the donate button. Please also pass this gofundraise site around to your friends and family - via Facebook, Twitter or email. For more insight into our world with Georgia, feel free to check out our blog at http://sgmackie2304.wordpress.com
Thank you so much!
Sue & Ken Mackie
read more
$11,905 of $10,000 target

All
Donations

0
Activity

0


There is nothing to show from any feeds at the moment.

There are no current donations or activities for this user.
The fitness feed has been disabled by the page owner.

CPEC (Cerebral Palsy Education Centre)
CPEC is a unique and specialised service for children and young people with Cerebral Palsy (and like conditions) and their families. We provide physiotherapy, occupational and speech therapy to children as well as enabling them and their families to access the essential equipment they need in their daily lives. The difference this can make to them is life changing. It currently costs around $32,000 per child per year to receive the much needed "Learning for Life" education programs from CPEC. Funding of approximately $7,900 per child is received from the Victorian Government, however, parent fees, donations and fundraising is needed to meet the shortfall. This huge financial burden challenges CPEC families every year.  The government only funds 26% of our operating budget so we need your help to fundraise the remainder needed to ensure our kids inspiring journeys can continue. Your support is invaluable.
read more
Created by
Sue Mackie
for CPEC (Cerebral Palsy Education Centre)
Sue Mackie

's

Total
Team Totals

$11,905 of $10,000 target
0 people in days
$11,905 of $10,000 target
0 people in days
Please make sure you are LOGGED IN. You can only join a Team Leader page if you are logged in and have an Individual page created. If you do, it will be displayed here once you've logged in. If you don't, please return to the 'home page' and follow instructions on how to create your Individual page.